SimeManù Cake
by Gaetano Mignano
Copyright photo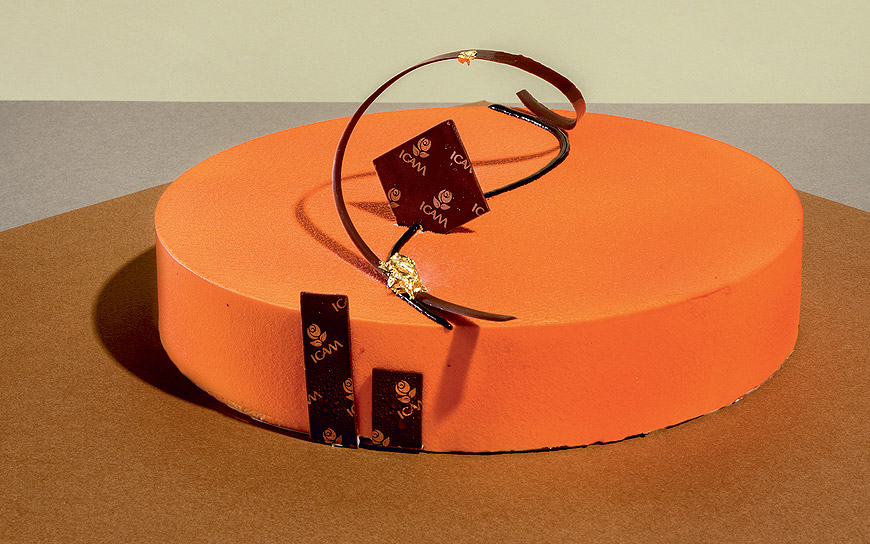 Description
Recipe created in collaboration with "Dolce e Salato" magazine.
Component 1

Chocolate Biscuit
Method
Mix the Pro Intense Dark Chocolate and the tempered butter at 50°C, add the sieved flour and mix everything. Add the egg yolks one at a time by mixing. Whip the egg whites in the food mixed at a medium to high speed and gradually add the sugar. Continue for another 2 minutes reducing the speed. Add the egg whites into the mixture stirring by hand with a spatula. Lay on a 30×40 cm tray and cook at 180°C in a static oven for 7-8 minutes. Once the cooking is completed, allow to cool down on the grill.
Component 2

Chococrunch base
Method
Combine the Milk Chocolate Grand Cru Los Bejucos – Dominican with the TGT Hazelnut Fine Praline and melt at 40°C, add the rest of the ingredients. Place the mixture between two sheets of baking paper and blast chill.
Component 3

Cream base (Custard)
Ingredients
| | |
| --- | --- |
| 250 gr | Fresh Cream |
| 250 cl | Milk |
| 100 gr | Egg Yolks |
| 50 gr | Sugar |
| q.b. | Tangerine Zest |
Method
In a bowl put the zest in milk and cold cream. Leave covered in infusion for at least 20 minutes.
Filter, add sugar and yolks while stirring and cook in microwave. Bring the cream to 82°C.
Component 4

Milk Chocolate and Tangerine Mousse
Method
Soften the jelly in cold water. Melt the Milk Chocolate Grand Cru Los Bejucos – Dominican at 40°C and mix with the cream base still warm (about 40°C). Melt the jelly in the microwave and mix it with the mixer. Thin the mixture with cream not too whipped. Keep refrigerated.
Component 5

White Chocolate Mousse
Method
Ripetete il procedimento della mousse Cioccolato al latte e mandarino.Versate nello stampo e abbattete.
Nota bene: il Cioccolato Bianco Biologico contiene la vaniglia naturale in piccoli pezzi e apporterà al preparato il gusto naturale della vaniglia biologica del Madagascar.
Component 6

Orange Chocolate Spray
Method
Break the Cocoa Butter in flakes, add to the Organic White Chocolate and melt at 45°C. Mix the orange dye.
Preparation
Build the layer cutting out a 16cm diameter disc from the blast chilled Chococrunch base. Pour inside the milk chocolate and Tangerine mousse and overlay a disc (16cm diameter) of chocolate biscuit and blast chill.
Take a 18 cm diamenter and 4cm high circle and fill it 2/3 full with the White Chocolate mousse. Take the layer and put it inside the white mousse disc with the biscuit layer facing downwards. Level up and blast chill. With a spray gun cover with velvet effect. Decorate with Milk Chocolate Curls.