Dark Uganda Single Origin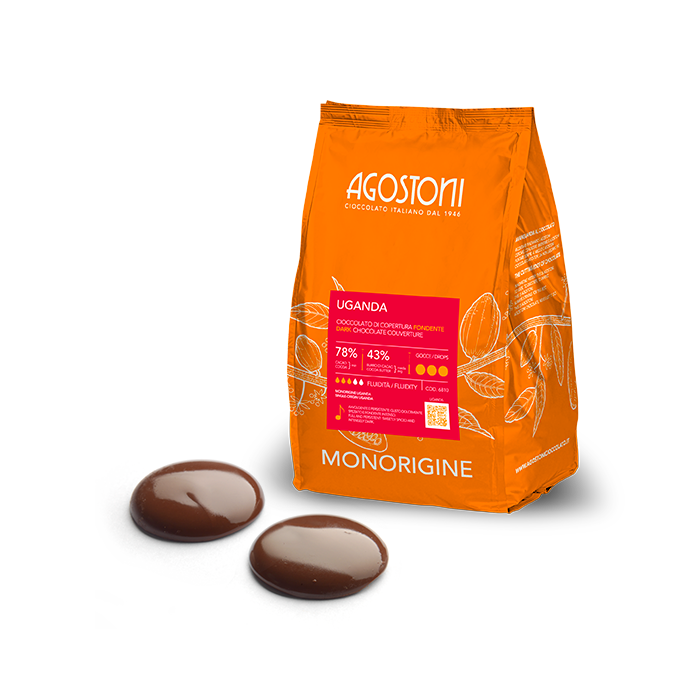 Description
In the philosophy of the control of supply chain, this cocoa is processed fresh in a company collection centre. The direct supply chain has enhanced the intrinsic quality of this high ground cocoa, as well as making sustainable production of excellence in the heart of Africa.
The resulting chocolate represents the essence of Africa: great power of taste, characteristic in its cocoa flavour, intense and with a long persistence. Delicately spiced and with a pleasant sweet note, enveloping and the cocoa flavor emerges for its strong, linear and clean taste.
Operating recommendations
In chocolatier
Excellent in pralines, in combination with ganaches and fillings which present significant alcoholic and aromatic parts, also whipped; to implement a range of solid chocolate bars or with inclusions, and for intense hot chocolate.
In pastry
Excellent for creating rich, full-bodied and structured creams and mousses. In confectionery, it can be used to create excellent bases, thanks to being rich in full-bodied cocoa fiber.
In ice cream making
Thanks to the richness and intensity of its taste, it is perfectly expressed when cold: great for semifreddo cold desserts and chocolate ice cream, which can also be created in combination with other aromas and ingredients.
Pack size
Cod. 6810
4 Kg Bags (3 Bags per Case)