Corona
by Salvatore Toma
Copyright photo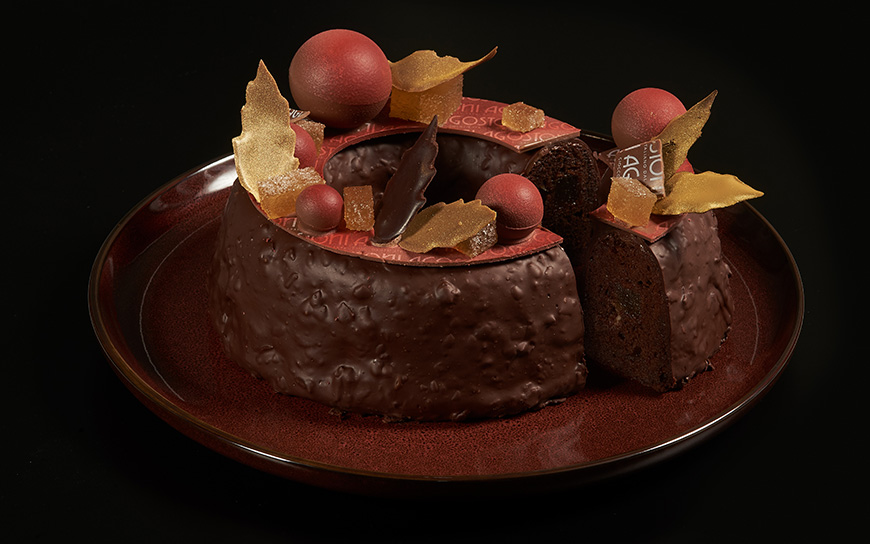 Component 1

Pear and grappa gelatine
Ingredients
| | |
| --- | --- |
| 500 g | pear purée |
| 500 g | apple purée |
| 100 g | sugar |
| 25 g | pectin |
| 1000 g | sugar |
| 200 g | glucose 42 dextrose equivalent |
| 50 g | dry grappa |
| as required | vanilla |
| 22 g | citric acid solution 1:1 |
Method
Heat the purée, add the pre-mixed pectin with sugar, stir and cook.
Slowly add the glucose and the sugar heated beforehand and heat to 74/75 degrees Brix. Add the grappa and the citric solution at the end.
Component 2

Chocolate cake with Uganda dark chocolate 78% cocoa
Method
Melt the butter and the chocolate, then put it in the food mixer with the sugar, salt, flavourings and mix with the K beater.
Add the cream blended with the eggs and egg yolks. Lastly, add the previously mixed and sieved powders.
Stir the cubes into the mixture.
Component 3

Cremino glaze with Uganda dark chocolate 78% cocoa
Method
Temper the chocolate and add all the other ingredients.
Ingredients
| | |
| --- | --- |
| 1000 g | 30 Baume syrup |
| 250 g | water |
| 250 g | pear purée |
| 250 g | pear grappa |
Preparation
Make the gelatine and once cooled, cut into 1×1 cm cubes. Make the cake and fill it with the cubes of white chocolate and 350 g of gel- atine cubes, bake at 155°C for 40'. Prepare the syrup and the glaze. Pour the syrup over the cake as soon as it is baked.
Leave to rest overnight and then, coat with jam. After a few hours, glaze and decorate with a Christmas theme.