Dark Heart
by Salvatore Toma
Copyright photo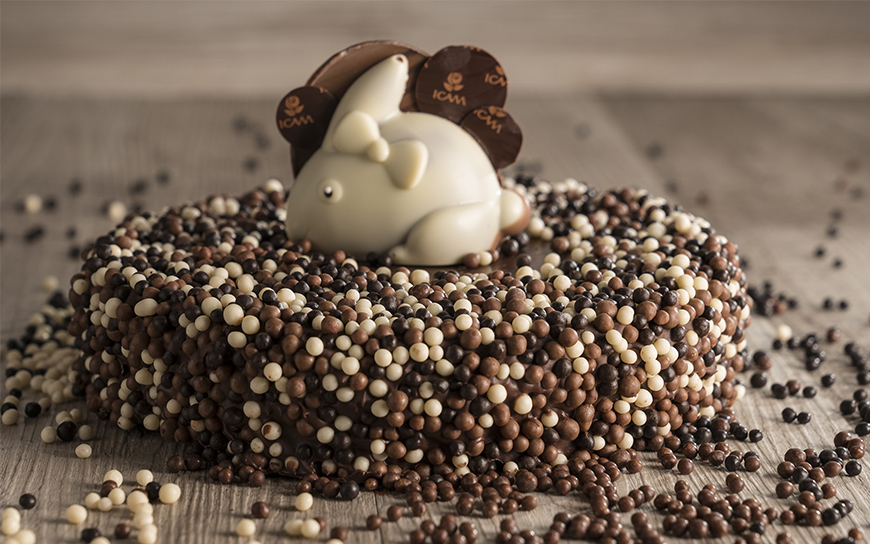 Component 1

Stack of Almonds
Ingredients
| | |
| --- | --- |
| 750 gr | Butter |
| 600 gr | Icing Sugar |
| 600 gr | Artisanal Almond Praline |
| 1000 gr | Almond flour |
| 1000 gr | Eggs |
| 300 gr | Wheat Flour |
| 125 gr | Starch |
| 15 gr | Baking |
| 15 gr | Salt |
| 100 ml | Amaretto |
Method
Mix with the leaf the butter, the icing sugar and the Artisanal Almond Praline, add the almond flour and, bit by bit, the eggs. Sieve the dry ingredients and add them together with the salt. Drizzle in the Amaretto.
Component 2

Dark Chocolate Uganda 78% heart
Method
Whip the egg whites and the sugar until frothy, add the egg yolks, the almond flour mixed with the Dark Cocoa Powder 22/24 and to finish the Dark Chocolate Single-Origin Uganda melted with the butter.
Component 3

Extra Dark Icing
Method
Prepare the water icing with icing sugar, water, alcohol soaking medium and Extra Dark Chocolate Cream.
Preparation
Slowly pour a first part, insert the heart of the chocolate and finish with the pecan mixture.
Cook at 150°C for 35-45'.
Drizzle with an alcoholic syrup.
Presentation
Once cold, finish with the Extra Dark Chocolate Icing.