Peru: land of Bagua cocoa
Bagua cocoa is an ancient, sought-after cocoa variety. A superior quality chocolate with an authentic flavour is obtained from this special cocoa.
Peru ranks eighth in the list of cocoa producers worldwide. Production is concentrated in the central part of the country.
PACHIZA
All the emotion of an aromatic flavour
In the centre of northern Peru where the Andes gradually slope down to give way to the Amazon Rainforest, there is the region of San Martin, a special place where Icam has selected an exclusive cocoa: Cocoa Cru Pachiza. A superior quality chocolate that caresses the palate and stirs emotions through a wide range of aromas is obtained from this special cocoa, combined with the great care in working the plantation and Icam's cutting-edge technology.
BAGUA
Native cocoa: unique and high-quality.
Bagua cocoa is undoubtedly one of the finest treasures of the Amazon and among the oldest cocoa varieties in the world, with cultivation dating back to 3000 BC when it grew wild. In the Peruvian region of the Amazon with its tropical climate and diversified farming, ICAM has discovered unexplored plantations where the authentic and original flavours of the "Xocoatl" have been maintained, which is still grown by the Mayo Chincipe community. ICAM has uncovered the oldest and most sought-after of all the cocoa varieties: the extremely rare, fragile and precious Criollo cocoa, now only grown in small, specific areas in the world. It is a very light coloured, almost white cocoa that has delicate, yet aromatic notes, revealing an intense, distinctive flavour. The authentic and pure flavour of this cocoa results in an extraordinary chocolate.
In Peru, ICAM works with APROCAM, a cooperative association which currently brings together about 460 small cocoa and coffee growers, a large number of whom belong to the native community of Awajun.  The main goal of APROCAM is to improve the quality of life of its members and increase their profits by promoting the quality of the cocoa.  All the cooperative activities are guided by the criteria of environmental sustainability which guarantee the conservation of the existing eco-system, by the criteria of social sustainability which contribute to the welfare of its members, and economic sustainability in sharing profits fairly.
Language
spanish, quechua e aymara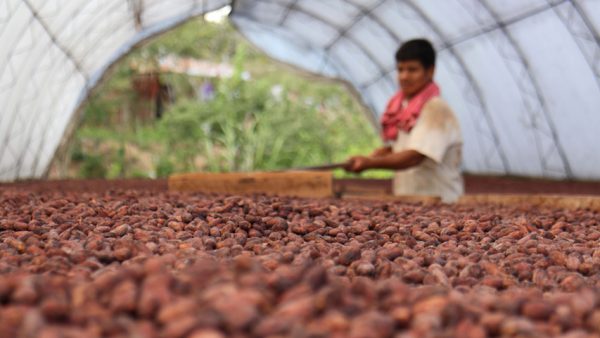 Sustainability
Peru
In Peru, ICAM has established long-term partnerships with several cooperatives aimed at promoting the strengthening and growth of the cooperatives themselves.
Guarda i prodotti di questa origine