Organic Dark Grand Cru Bagua - Peru Origin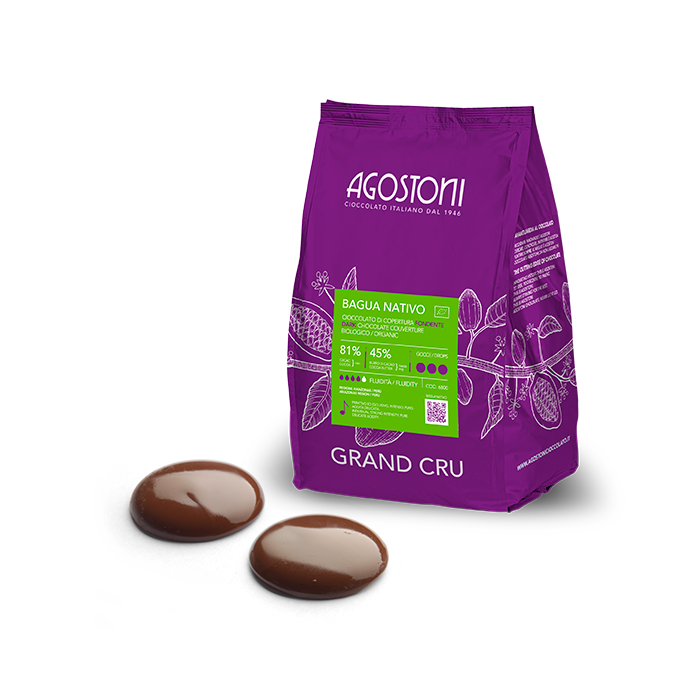 Description
A superior chocolate, made with cocoa of Cru Bagua origin, in the Amazon region in Peru: a treasure found by Icam at the origins of this cocoa, a "native" cocoa, spontaneous and rich in criollo beans, cultivated by the native Amazonian communities in a wild territory, rich in uncharted areas.
This "primitive" cocoa, unique and rare, allows you to obtain results of excellent quality, giving life to an exclusive chocolate, with an aromatic profile of great intensity and power of flavour where it expresses the cocoa flavour in its pure form, delicate and perfumed acidity, pleasantly astringent. Strong intensity in the mouth and nose.
Recipe with no lecithin
Operating recommendations
In chocolatier
Excellent in pralines, in combination with ganaches and fillings which present significant alcoholic and aromatic parts, also whipped; to implement the range of solid bars or with inclusions, and for intense hot chocolate. Excellent for moulding and coating.
In pastry
Excellent for creating rich, full-bodied and structured creams and mousses. In confectionery, it can be used to create excellent bases, thanks to being rich in full-bodied cocoa fiber.
In ice cream making
Thanks to the richness and intensity of its taste, it is perfect for cold applications such as semifreddo desserts and chocolate ice creams, and can be combined with other aromas and ingredients.
Pack size
Cod. 6800
4 Kg Block (3 Blocks Per Case)