Black Marsh
by Salvatore Toma
Copyright photo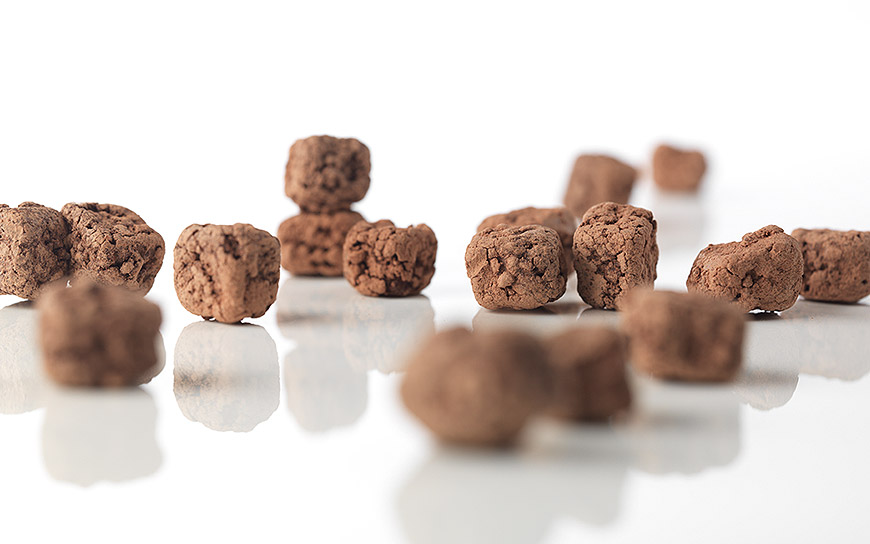 Component 1

Bagua Marshmallow
Method
Rehydrate the isinglass with cold water and then dissolve in the microwave. Pour inside the stand mixer with the first portion of inverted sugar (170 gr).
Heat the milk with the glucose at at-least 60°C, dissolve the agar agar then pour over the Organic Grand Cru Bagua Cocoa Mass, emulsify and add the rum.
Cook the first group of ingredients over 115°C (water, sugar, inverted sugar, glucose and sorbitol). At reached temperature, pour inside the turned on stand mixer over the inverted sugar and melted isinglass. Whisk to skim and cool down.
Add ganache by hand. Once the mixture is homogeneous, put inside the 1 cm height ganache squares resting on the silpat. 
Preparation
Leave standing until cooling and then cut into cubes by 1 cm. Open and leave to dry for 2-3 days at controlled temperature and humidity.
Coat the cubes with Dark Chocolate Organic Grand Cru Bagua and finally garnish with 22-24 Dark Cocoa and leave to crystallise for a night at 14°16°C, under controlled humidity conditions. Wrap.