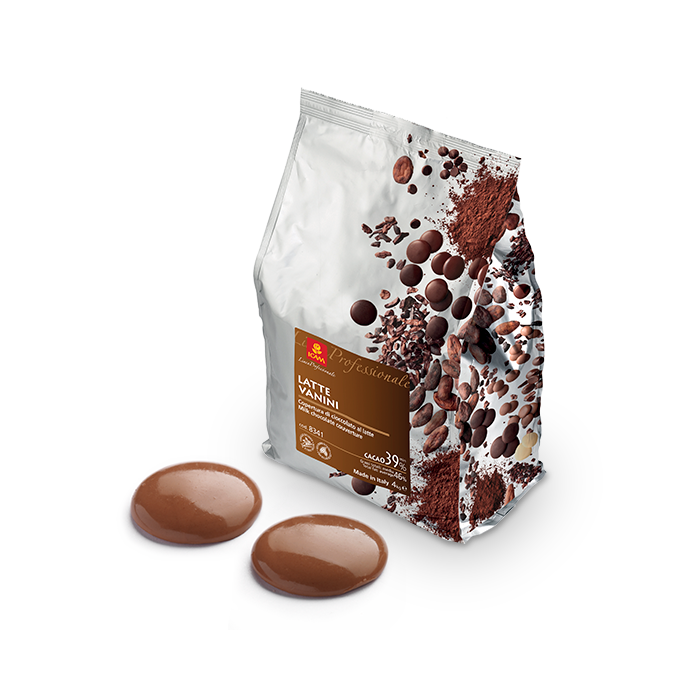 Description
Milk chocolate with unique organoleptic characteristics, exalted by the perfect harmony of milk and cocoa.  The successful balance between milk and cocoa, with low sugar content, offers a harmonious combination of tastes, from which pleasing notes of caramel emerge.
Light colour.
Operating recommendations
In chocolatier
The balanced taste makes it a leading player in icing and also tasting in pure form; recommended for the entire area of refined pralines and excellent fillings. Extremely refined for pure bars, filled bars and in combinations with dried fruit.
In pastry
Recommended for miniature desserts to be covered and iced, light creams; to flavour filings of all confectionery products.
In baking use, the button format allows placing within the panettone and dove doughs and other leavened doughs, breakfast pastries and base doughs of the plum-cake type.
In ice cream making
Great for a milk chocolate ice cream milk, balanced and smooth. Excellent in the combination chocolate/hazelnut, pistachio, almonds; also suitable to obtain the chips effect.
Pack size
Cod. 8341
4 Kg Bags (3 Bags per Case)