Dark Madagascar Single Origin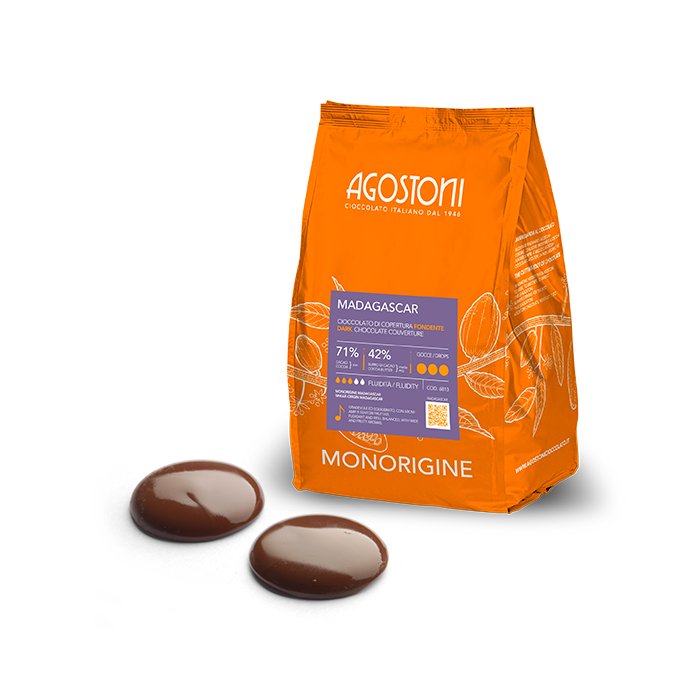 Description
Single origin chocolate produced with cocoa originating from the region of Sambirano, in the northeast of Madagascar.
Very pleasant, balanced acidity, bitterness and sweetness, yet intense, aromatic and with a long finish in the mouth.
Has distinct notes of fresh fruit, and a broad range of typical cocoa aromas.
Recipe with no lecithin
Operating recommendations
In chocolatier
In pralines, particularly suited for fine bon bons; ideal to implement a range of chocolate bars, solid or with inclusions; for making ganaches and hot chocolates.
Can be used in coatings, even with a continuous tempering machine.
In pastry
Recommended in the same chocolate products' combinations. Extraordinary with egg creams, chantilly and chocolate cake fillings. In baked desserts, it is well-suited to shortcrust pastry and spiced biscuits.
In ice cream making
Special for aromatic ice cream, with or without spices; makes chocolate sorbet special.  Recommended for semifreddo cold desserts.
Pack size
Cod. 6813
4 Kg Block (3 Blocks Per Case)