03/06/2019
CHOCO CUBE technicians
ICAM's technical team, composed of Italian and international chefs, represents the beginning of a journey that can develop new trends, experiences and offer a valuable support to all the Italian and international customers.
CHOCO CUBE TECHNICIANS
Salvatore Toma
CHOCO CUBE TRAINING COORDINATOR
TECHNICAL CONSULTANT FOR ICAM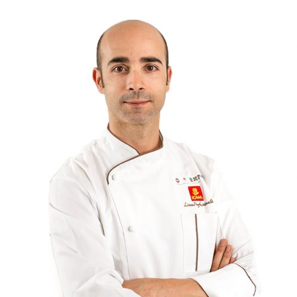 After completing his specialization studies in pastry, ice cream art and chocolaterie, he consolidated his training at his father's patisserie.
He has worked for many years with national and international companies in the sector, as for example in France, Belgium and Switzerland. 12 years of consolidated experience that have allowed him to acquire extensive expertise in the sector to be able now to share his know-how and passion for chocolate and pastry to all the professionals who want to explore this path. In 2012 he decided to open his own patisserie in Corsaro with other partners to offer chocolate lovers his best selection and proposal of confectionery.
Since 2016 he is Technical Consultant for ICAM, and in 2019 he became the Training Coordinator of CHOCO CUBE, the new dimension dedicated to pastry chefs and professionals in the sector. A place where passion, tradition and experience are combined to encourage the growth and exchange of knowledge, to strengthen the culture of chocolate and to outline the trends of the sector for the future.
Gaetano Mignano
TECHNICAL CONSULTANT FOR ICAM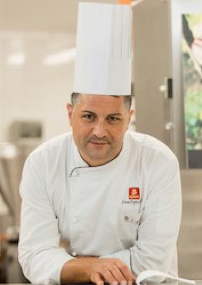 After completing his studies, he followed a professional path of growth through the family pastry business and following Maestri such as Gennaro Volpe, his tutor.
The passion for this art and the experience gained in the following years allowed Gaetano to achieve several titles and awards.
In 2012 he took over the family business and, thanks to a path of innovation, his pastry and his passion for chocolate are recognized and appreciated so much that now they are a daily reference point within the territory. Gaetano has become a consultant for many private companies belonging to the sectors: pastry, ice cream and chocolaterie. Since 2007 he has also been a technical consultant for ICAM, where he had the opportunity to expand his skills about chocolate.
In 2008 won the Ice Cream World Cup and since 2015 he has been a member of the Ice Cream World Cup committee covering the roles of Head Technical Inspector of the honour jury and tasting jury.
Simon Tobilca
ICAM TECHNICAL CONSULTANT IN SLOVENIA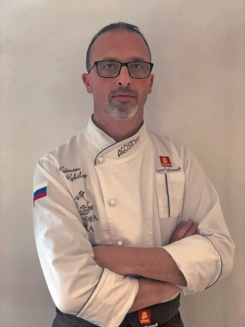 After completing his studies he immediately started his career in a Slovenian confectionery company. His passion for the pastry sector grew more and more, increasing his skills and becoming a well recognized pastry technician, ice cream maker and chocolatier.
He has worked for several Slovenian companies and for other competitors of the sector. Since 2017, he is a technical demonstrator for the Slovenian distributor Grosist, also representing the brand ICAM.
Irena Rovanšek
ICAM TECHNICAL CONSULTANT IN SLOVENIA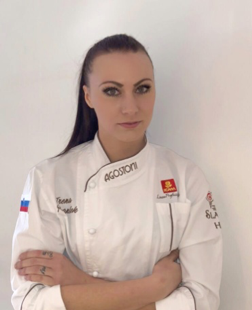 A young pastry chef, only 25 years old, after finishing the technical high school she enjoyed a unique experience in the reality show Masterchef, where she further developed her skills and her passion for the pastry and culinary world in general. After 3 years of catering and many pastry and ice cream courses, she worked for two years in a famous Slovenian patisserie. Creativity and entrepreneurial spirit allowed the young chef to open a restaurant of her own. In 2018 she joined the technical team of Grosist, a Slovenian distributor in the professional sector for pastry, ice cream and chocolaterie.
Marco Nessi
TECHNICAL CONSULTANT ASSISTANT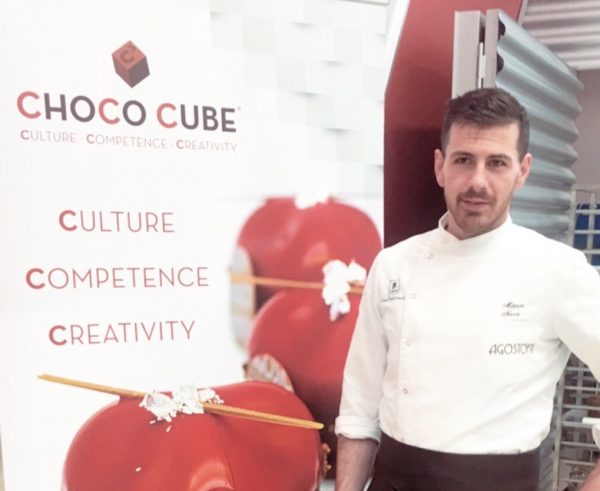 Chef Marco Nessi was born in Lecco on November 11th, 1989. He attended the Hotel School at Centro Studi Casnati in Como, achieving the diploma in 2008. He started working in a small restaurant in Barzago, dealing with desserts.
There he started to be passionate about the pastry world. After a summer experience at the Grand Hotel of Riccione, five stars hotel, he worked for 7 years as Pastry Chef at "Dolce e Caffè", patisserie located near Como. Here he began to learn different aspects of the pastry art, attending also a lot of training courses in different schools of Italy, such as Cast Alimenti in Brescia.
In 2017 he decided to open his own patisserie, called "Pasticceria Nessi", located in Dolzago (LC), where he produces pastries such as sweets for breakfast, classic and modern cakes, mignon pastry and salty pastry.
From 2019 he started his training process and collaboration with ICAM as Technical Consultant Assistant at CHOCO CUBE, the new training center located at ICAM headquarter in Orsenigo.
Giancarlo Alosa
TECHNICAL CONSULTANT ASSISTANT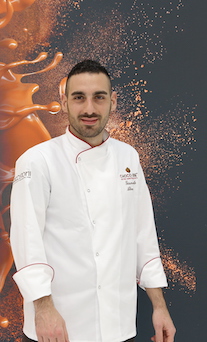 CHOCO CUBE has the pleasure to invite master pastry chefs, chocolatier and ice cream makers whose skills are recognized both nationally and internationally, to share their experiences and knowledge with all the professional of the market. Born in 1985, he studied at the hotel Colombatto in Turin, and then began his apprenticeship in the kitchen between Cogne, Cortina, Claviere and Virginia. Later on he began working in the historic Capello pastry shop, owned by the family since the late 1980s. Thanks to the innovation, passion and professionalism of Giancarlo, the Capello pastry has established itself among the best ones in Turin, with a great proposal from breakfast products, classic and modern cakes, pastry mignon and salty pastry, becoming a very popular place also for its evening gourmet aperitifs. He combines laboratory work with professional technical consulting in the sector both nationally and internationally. Since 2020 he has been an ICAM technical consultant for CHOCO CUBE, the training centre located in the Orsenigo plant.