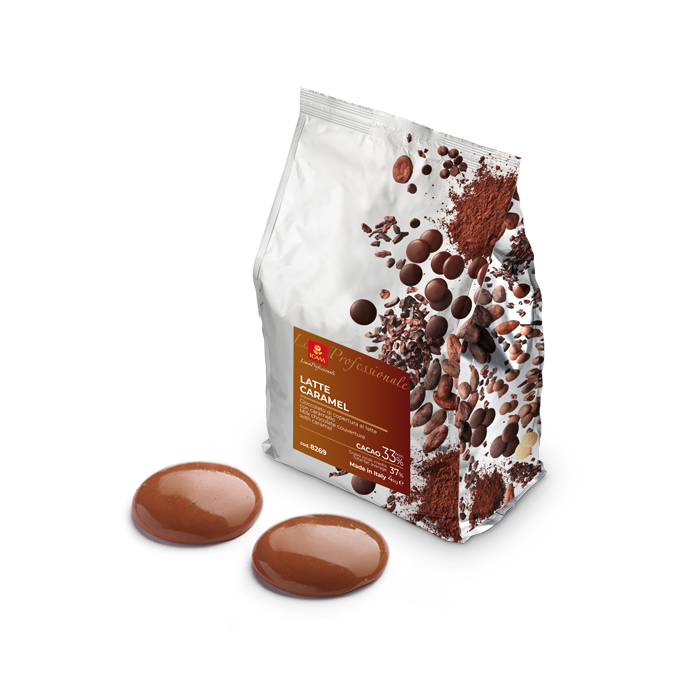 Description
A caramel milk chocolate for couverture, made according to a recipe valued for its superior taste and technical characteristics: the flavour, creaminess, perfectly balanced pour point, crystallisation capacity, toffee colour and reduced sugar content, make it a truly sophisticated ingredient appreciated by the most demanding clientele.
Intense toffee flavour: hints of brown caramel, cream and fresh milk envelop the palate before making room for the milk chocolate base, ending the tasting with a slightly salty hint to cleanse the mouth. The overall result is one of great character and delicacy.
Toffee-coloured.
Operating recommendations
In chocolatier
Perfect for modelling pralines, small and large hollow bodies, Easter eggs and elements in all types of shapes and sizes: thanks to its medium viscosity, perfect and consistent thickness can be achieved in a single step; modelling after crystallisation is easy and the result is perfectly shiny. Can be used as a couverture – either manually or with a coating machine.
In ganaches, it adds a milky and caramel flavour, with an intensity easy to balance through dosing; offers a good base for pairings.
Instantly enjoyable as is, this chocolate is also ideal for traditional and filled bars, but also bars sprinkled with dried and dehydrated, generally acidic fruit, or flavoured with spices, in a combination of flavours and colours.
Intriguing for a cup of hot chocolate with toffee hints, both in the dense Italian-style version or more fluid for a more international market.
In pastry
Can be used with all pastry filling creams.
Characterises mousses and icings with distinction and colour indicative of the flavour.
Perfect for the couverture of biscuits and mignons.
Impeccable as decoration on cakes and mignons.
In ice cream making
Intriguing for ice creams with a distinctive taste, in semifreddo desserts and for a stracciatella effect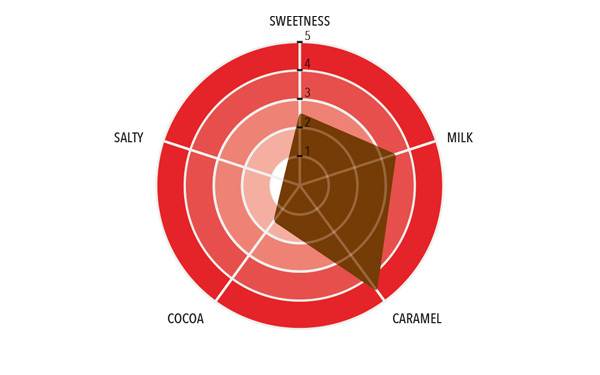 Pack size
Cod. 8269
4 Kg Bags (3 Bags per Case)