Dark Dominican Single Origin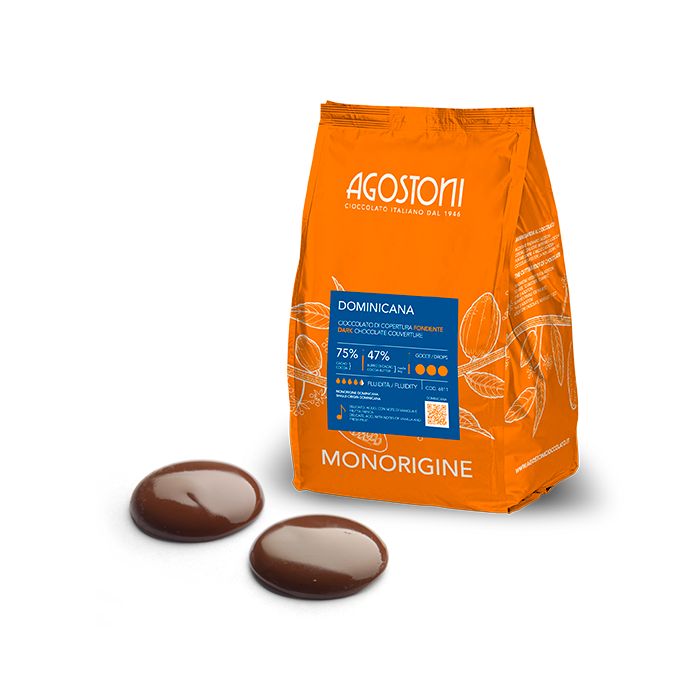 Description
Chocolate made solely from "Hispaniola" cocoa, selected from the most exclusive plantations in the province of Duarte, fully taking advantage of the finest genetic heritage.
The resulting chocolate has a very delicate aroma, slightly acidic, with a hint of vanilla; emerging is the scent of cocoa and chocolate.
Melts easily, with  a long finish in the mouth, just slightly astringent with fresh fruit final notes.
Recipe with no lecithin
Operating recommendations
In chocolatier
Excellent in pralines, in combination with non-alcoholic creams, non-acidic fruit ganaches.
Perfect in the production of spreadable creams and hot chocolate drinks, to implement a range of solid chocolate bars or with inclusions..
Can be used in coatings, even with a continuous tempering machine.
In pastry
Extraordinary in fine pastries, especially cookies, cakes with delicate toppings, mousses, perfect in profiteroles, or for a Sacher-type icing.
In ice cream making
Extraordinary in creamy semifreddo cold desserts, in chocolate ice cream without alcoholic correction or additions, in small refined ice creams.
Pack size
Cod. 6811
4 Kg Bags (3 Bags per Case)