Summer
by Salvatore Toma
Copyright photo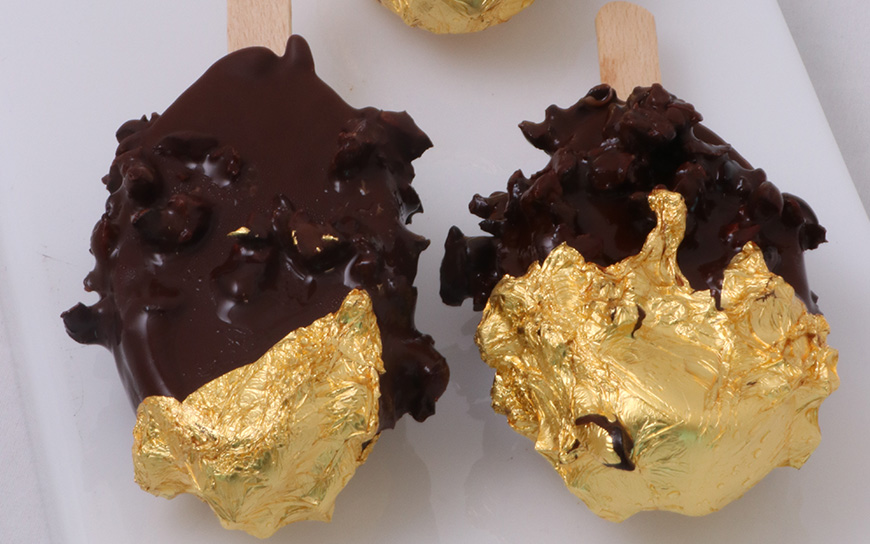 Description
Recipe created in collaboration with the magazine"Gelato Artigianale".
Component 1

Chocolate shell with Pachiza dark chocolate 70% cocoa
Method
Melt the chocolate and cocoa butter together; then add the oil and nibs.
Component 2

Caramel with Pachiza chocolate 39% cocoa
Method
Heat the cream with the glucose, dextrose and butter; then start to caramelise the sugar and cook through with the heated mixture.
At 70°C, add the chocolate and salt. Cool in the fridge.
Component 3

Semifreddo with Pachiza dark chocolate 70% cocoa
Method
Heat the chocolate, inverted sugar and cream together.
As soon as they are evenly mixed, add the meringue and rum. To finish, add the cream in two batches.
Preparation
Make the caramel and leave it to crystallise in the fridge. Pour it into the flexpan and put it in the blast chiller.
Make the semifreddo and pour it into the snack moulds and put the chilled caramel in the centre. Place in the blast chiller to harden.
Unmould, glaze and decorate.