Summer Rocher
by Salvatore Toma
Copyright photo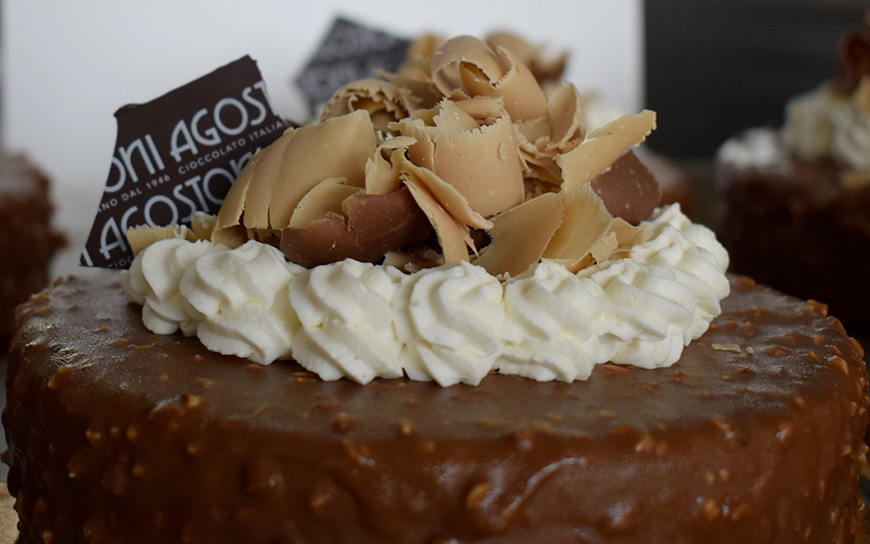 Component 1

Fluorless Pro Intense Dark Chocolate 60% biscuit
Method
Whip the albumens with the sugar at foamy snow, add the liquid egg yolks. At the end distemper with the melted chocolate together with the butter.
Lie down in sheets and cook at 160°C 12' VA.
Component 2

Crispy praline dark icing
Method
Melt the chocolate, add the Icam cream and the hazelnut paste. Mix and add slowly the sunflower oil and to end the hazelnut granules and the crunchy flakes
Component 3

Raspberry and coconut gelèe
Ingredients
| | |
| --- | --- |
| 1000 g | Coconut puree |
| 500 g | Raspberries |
| 400 g | Sugar |
| 35g | Pectin NH |
| 50g | Sugar |
| 3pz | Vanilla bean |
| 50g | Lemon juice |
| 30% | On the final weight of invert sugar in addition |
Method
Heat the puree with the whole raspberries and sugar. Add the pectin premixed with sugar and subsequently the vanilla bean and lemon juice. Cook at desired consistency. Weigh and add the percentage of invert sugar. Pour.
Component 4

Hazelnut praline Uganda 78% semifreddo
Method
Realize a ganache with the first cream, invert sugar, praline and chocolate. Realize and add the meringue. Add the half whipped cream.
Preparation
Build the cake or the single portion and put it in a blast chiller.
Presentation
Demould, glaze and decorate as desired.