Christmas
by Salvatore Toma
Copyright photo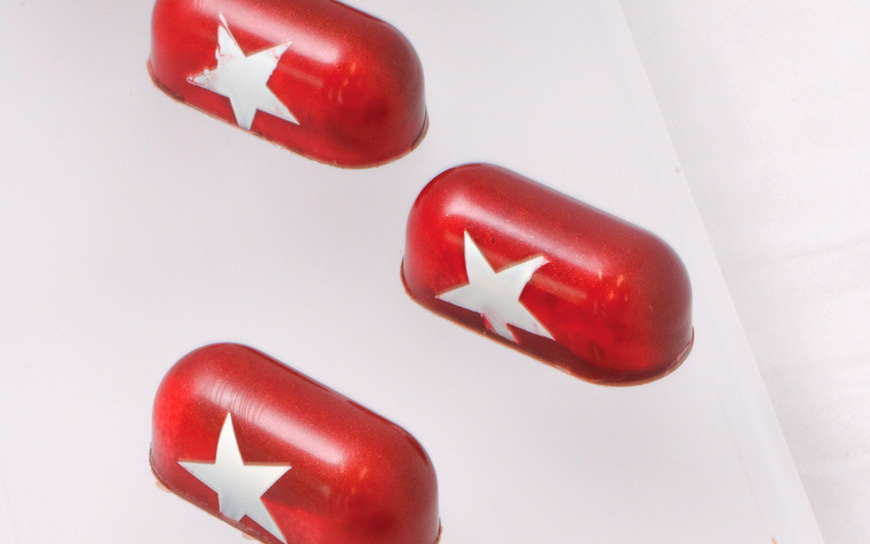 Component 1

Shell in Los Bejucos dark chocolate 70% cocoa
Ingredients
Method
Melt and temper the chocolate, use to make the shells, crystallise.
Component 2

Apple and cinnamon gelatine
Ingredients
| | |
| --- | --- |
| 300 g | Granny smith apple purée |
| 80 g | Water |
| 9 g | Yellow pectin |
| 180 g | Sugar |
| 1 g | Cinnamon |
| 1 g | Star anise |
Method
Mix the purée and water, add the pre-mixed pectin and cook at 102°C.
Component 3

Los Bejucos milk chocolate ganache 46% cocoa
Method
Bring the cream, glucose and butter to the boil, pour onto the chocolate and mix well.
Component 4

Crisp almond praline
Method
Mix the praline with the crushed crunchy flakes and add the tempered cocoa butter.
Preparation
Make the shells with the moulds, decorate with the Christmas star motif: allow to crystallise.
Make the apple gelatine, leave to cool and place in the shell. Meanwhile, make the milk chocolate ganache and as soon as it reaches 28°C, pour it into the mould on the gelatine.
Leave to crystallise overnight and then, make and pour the crisp almond praline and pour: crystallise and close.