Cremone Bianco - (white chocolate with hazelnuts)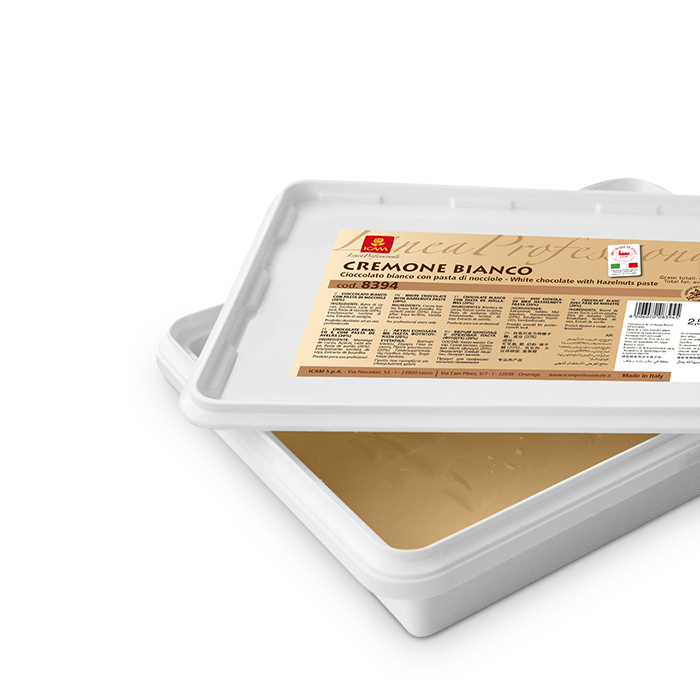 Description
White chocolate with 20% of hazelnut paste. Mouth-filling taste, balanced in structure, sweetness and milk and hazelnut flavour. It is suitable for different applications.
Operating recommendations
In chocolatier
Its easy manufacturing makes it a perfect chocolate for the realization of noisettes and chocolate torroni, chocolate specialities, bars and snacks. Perfect with other ingredients such as hazelnuts, dried fruit, puffed rice and cereals. Particularly indicated for the praline world, ideal for chocolate cremini and gianduiotti, but also for creams and fillings of excellent stability and structure. It expresses itself fully in chocolate cremini with different flavours layers, combined with other two recipes of Gianduja: the traditional Gianduja (with a dark chocolate base) and the Gianduja milk.
In pastry
Thanks to its ductility and its "tablet" format, it is perfect to decorate, in particular to realize long solids and rich chips, as well as the"selva" chocolate; it is excellent as a completion for cakes, monoportion and miniature pastry. Ideal for making cream fillings of excellent stability and structure. It is not to underestimate in the realization of hot chocolate: a really unique aroma.
In ice cream making
With a water or milk base, it is excellent to make ice-creams, as well as being used as "white" stracciatella ripple and for frosting covering ice cream sticks. It can be used as an ingredient for semifreddi.
Pack size
Cod. 8394
4 pani da 2,5 Kg cad.